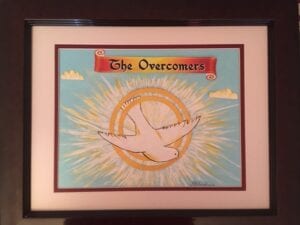 About Patricia Piilani Ono
& The Online Ministry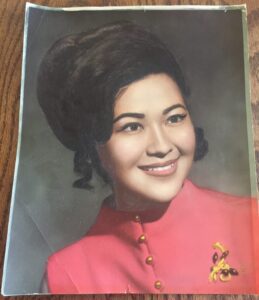 In a vision-dream, I received the Logo and its meaning for The Overcomers ministry on December 27, 2014. Marieann Ono Ferreira completed this painting on January 26, 2015.
1. Two gold rings (one inside the other) represents God the Father and God the Son, Jesus Christ.
2. White Dove represents the Holy Spirit (with wings out-spread). The dove emerged through the rings and is flying towards the earth below.
3. Light blue sky with clouds represents the Heavenly Kingdom of God.
4. Bright Light (white, yellow) (radiating outward from the center of rings behind the dove) represents the Glory of God.
5. Theme: "'By my Spirit,' says the LORD of Hosts (armies)" – Zechariah 4:6.
6. Overcomers Theme: "And they have OVERCOME him (Satan) by the blood of the Lamb, and by the word of their testimony, for they loved not their lives even unto death" – Revelation 12:11 (KJV, ESV).
Perhaps the answer is because my father, Rev. Solomon P. Ono Sr. before he went to heaven, passed his ministry's books, logo, literature, etc. to his six children. He specifically gave me a gold cross pendant that he received from a Jewish friend. He perceived that I would carry on the call of Jesus to "...go and preach the gospel....".
Listen to the divine sermons.